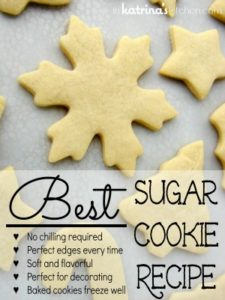 Finding the best sugar cookie recipe can be quite the challenge. I find that the cookie is either too doughy, tastes too much like flour, the kids won't eat them, or you have to refrigerate them so long and the dough comes out rock hard. I found a recipe ( I wish I could claim it as my own) that is FANTASTIC and I had to share it with all of you because it is just that good.
it comes together quickly.
it does not need to be chilled.
it can be doubled easily.
it holds its shape with very little expanding when baked.
The recipe I am giving you makes a large batch of dough because I like to bake a lot of cookies. Also I like to roll and cut my cookies fairly thick…to hold a lot of frosting. Incorporating the last cup of flour may make you nervous. It will be dry and look crumbly. Turn out the dough and work with wet hands and/or more flour until the dough is smooth and ready to roll.
Most asked Q and A about this recipe:
THE DOUGH IS STICKY AND/OR CRUMBLY. WHAT CAN I DO?
The final dough really comes together and has a texture close to Play-Doh. Wet your hands if you need to. Turn out the dough onto a floured surface. Don't be afraid to use more flour and incorporate it in while you are "kneading" it into a smooth ball.
Forget everything you know about sugar cookie dough. Don't be afraid of sprinkling more flour as you roll it out. Use the scraps! Mix them back into the unused dough and keep going.
CAN I CHILL THE DOUGH? I WANT TO CHILL THE DOUGH. ACTUALLY I NEED TO MAKE THIS 3 DAYS IN ADVANCE, IS THAT OKAY?
If you need to make the dough in advance you can chill it. Wrap it tightly with plastic wrap and store in the refrigerator. Bring the dough to room temperature before rolling and cutting. You may need to use more flour on the countertop.
THE COOKIES LOOK UNDER-BAKED. CAN I BAKE THEM LONGER?
I almost always suggest pulling out these cookies and the 8-9 minute mark. They will continue baking on the cookie sheet for a few minutes while they cool and set. After cooling for about 5 minutes I use a spatula to transfer them to a wire rack.
NOTES:
You can use salted butter (just out the 1/2 teaspoon salt). In the past I've omitted the salt and the recipe is fine. It is more bland but these cookies are made for frosting.
If you must chill the dough just leave it on the counter top for 10 minutes before rolling or work the dough with your hands for a few minutes.
You can omit the almond extract if you do not have it available, however the taste is really fantastic with the hint of almond.
Keep in mind that the recipe yield will vary according to how thick you roll your cookies and how large or small your cutters are.
Bake for 6 minutes to test. They should be soft. Leave them on the baking sheet for 5 minutes before transferring to cool completely. If you reach 7-8 minutes and the edges turn brown your cookie will be crisper.
Best Sugar Cookie Recipe
YIELD: 3 dozen cookies
PREP TIME: 30 minutes
COOK TIME: 6-8 minutes
TOTAL TIME: 38 minutes
Soft cut out sugar cookie recipe that keeps its shape and dough does not need to be chilled before baking- perfect edges every time!
INGREDIENTS:
1 Cup unsalted butter
1 Cup granulated white sugar
1 teaspoon vanilla extract
1/2 teaspoon almond extract
1 egg
2 teaspoons baking powder
1/2 teaspoon salt
3 cups all purpose flour
DIRECTIONS:
Preheat oven to 350° F.
In the bowl of your mixer cream butter and sugar until smooth, at least 3 minutes
Beat in extracts and egg.
In a separate bowl combine baking powder and salt  with flour and add a little at a time to the wet ingredients. The dough will be very stiff. If it becomes too stiff for your mixer turn out the dough onto a countertop surface. Wet your hands and finish off kneading the dough by hand.
DO NOT CHILL THE DOUGH. Divide into workable batches, roll out onto a floured surface and cut. You want these cookies to be on the thicker side (closer to 1/4 inch rather than 1/8).
Bake at 350 for 6-8 minutes. Let cool on the cookie sheet until firm enough to transfer to a cooling rack.
http://www.marybockert.com/wp-content/uploads/2016/07/mbtransparent-300x138.png
0
0
Mary Bockert
http://www.marybockert.com/wp-content/uploads/2016/07/mbtransparent-300x138.png
Mary Bockert
2017-12-21 01:58:02
2017-12-21 01:58:02
The ABSOLUTE BEST Sugar Cookie Recipe!