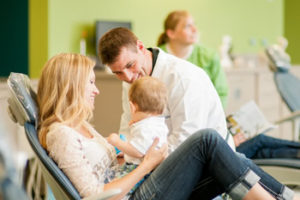 It was a SHOCK to me when I found out that my first born was late to the game of getting her teeth checked by the dentist. I thought for sure waiting until she was almost 4 years of age was "safe" and what every other parent did. What I didn't realize is that all of my other mommy friends had been taking their littles to the dentist starting at a very young age…say…18 months. YIKES! This made me think and reevaluate when the right time to take my second born would be. I did some research and found some answers to many of my unanswered questions.  What better way than to compile all of my questions and sought out answers here to help someone else who may have those same questions.
What is the difference between a pediatric dentist and a family dentist?
Pediatric dentists are the pediatricians of dentistry. A pediatric dentist has two to three years specialty training following dental school and limits his/her practice to treating children only. Pediatric dentists are primary and specialty oral care providers for infants and children through adolescence, including those with special health needs.
2.  When should I take my child to the dentist for the first check-up?
In order to prevent dental problems, your child should see a pediatric dentist when the first tooth appears, or no later than his/her first birthday.
3.  Are thumbsucking and pacifier habits harmful for a child's teeth?
Thumb and pacifier sucking habits will generally only become a problem if they go on for a very long period of time. Most children stop these habits on their own, but if they are still sucking their thumbs or fingers past the age of three, a mouth appliance may be recommended by your pediatric dentist.
4.  Toothpaste: when should we begin using it and how much should we use?
The sooner the better! Starting at birth, clean your child's gums with a soft infant toothbrush or cloth and water. Parents should use a tiny smear of fluoride toothpaste to brush baby teeth twice daily as soon as they erupt and a soft, age-appropriate sized toothbrush. Once children are 3 to 6 years old, then the amount should be increased to a pea-size dollop and perform or assist your child's toothbrushing. Remember that young children do not have the ability to brush their teeth effectively.  Children should spit out and not swallow excess toothpaste after brushing.
5. How safe are dental X-rays?
There is very little risk in dental X-rays. Pediatric dentists are especially careful to limit the amount of radiation to which children are exposed. Lead aprons and high-speed film are used to ensure safety and minimize the amount of radiation.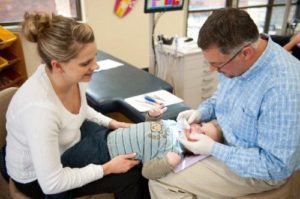 http://www.marybockert.com/wp-content/uploads/2016/07/mbtransparent-300x138.png
0
0
Mary Bockert
http://www.marybockert.com/wp-content/uploads/2016/07/mbtransparent-300x138.png
Mary Bockert
2017-11-01 20:36:34
2017-11-01 20:36:34
Let's Talk Dental Health