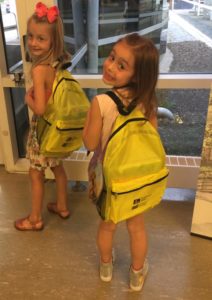 Oh the day is coming and I am DREADing dropping off my sweet, innocent little girl to school for kindergarten. I'm sure I am not the only parent out there who is feeling the heavy stomach and realizing the day is coming faster than I can blink! 3 weeks…that is it! My baby will be leaving my care that she has gotten for the last 5.5 years of her life and someone else besides myself will be teaching her…YIKES! Having previously taught kindergarten for 4 years, I know all too well the first day jitters parents show…and now I will be on the other side of the door with those same jitters I witnessed other parents express just 7 short years ago.
So how does one mentally prepare for such a "drop off?" I want to express what I have done to prepare myself and my daughter for the day she will walk into the care of someone else and learn by the teachings of another woman. (I am sure you can sense how difficult this is for me…it is my first baby and I can't imagine my days without her next year).
Here are some tips I took from other mommy friends who have experienced the same emotions stirring in me.
I wrote her a letter ( and will do this every year she is in school)…and it goes something like this:

Dear Annora:

In just 27 short days, you start kindergarten. It feels like your dad and I have been counting down to this moment since you were born: "Can you believe in three years she'll go to school?" "Next year at this time she'll be in school." "Only two more months until school." But now, in time that's felt less like a marathon and more like a 50-yard sprint, we're buying markers and pencils, a Moana thermos and colored folders.

As with every other step along this parenting journey, friends, family, even strangers have offered opinions on how I'll feel when I drop you off at school that first day. I haven't a clue but I do know that when the door closes and I get that last glimpse of you for seven hours (and even shorter on your 1/2 days), you'll crowd my thoughts: what you're doing, what you're thinking, if you're ok, if you're eating your lunch and using your manners, if you miss me and your sister(s) and your dad.

Being a parent has been beautiful, interesting, frightening, rewarding, and frustrating, sometimes all at once. You have been such a blessing from God to Daddy and I and we are so proud of you. You have always had an infectious personality that brings the biggest of strangers into a "family" circle around you. You have a way of making people love you from the moment they lay eyes on you and your heart is bigger than you even know. You have a beautiful spirit and I have learned so much from you. You have taught me patience, kindness, compassion, a love for bugs (sort of), and have given me a child's perspective on faith that I could never repay you for. I am a better person, mother, friend and wife-all because God decided I was the best mommy for the job. I am one blessed momma…and I hope you know how much you hold my heart.

Like so many parents of our generation, we tried to give you the "must-haves" the experts insisted on: Breastfeeding: Check. Lots of books: Check. Minimal TV: Check. Early preschool: Check. [Mostly] Healthy meals: Check. Your whole life, you've had options and choices, a fortunate distinction from most of the rest of the world.

While I have given you advantages and can buy those school supplies and pack your lunch, you'll have to go it alone. That's why as the days draw nearer to the start of school, you test the waters, asking questions, imitating imagined conversations, thinking aloud what this strange new world will be like. You've always been one to jump in with two feet and conquer the world with the biggest smile on your face. You have never limited your thinking and you dream BIG! It's a trait you and I share; while it comes with some limitations, it also has its advantages. I tell people that your younger sister — the one who always sports a bruise or a cut — will be cliff diving, while you'll be checking the ropes for her.

Once I expressed my own hesitations about school to a teacher acquaintance. Her advice stuck with me: The hardest part of releasing you to elementary school — or any new experience — is realizing that I must give you up to the less-than-perfect world that awaits you.

While the world has been and always will be imperfect, I too have been an imperfect parent. But I was always willing to learn, to say I was sorry, to try harder the next time. And now I'm willing to release you, with the knowledge that school, like parenting, will be rewarding and frustrating and I cannot change that. Despite all those fortunes of your early life, you will have sad days and lonely days and days when you just don't want to go, when your teacher doesn't notice you or your best friend won't play with you or another kid is mean to you.

If there are a few thoughts that carry you through, let them be this: While your dad and I have to let you go, no matter what you think or do or become we will always be there for you and listen. Dive off that cliff occasionally (check the rope first) and know that in our imperfect world, with all my imperfect ways, I have been given you and your sister, the two most perfect gifts one could hope for.

Love,

Momma

Think about how you want to be involved.

There will be lots of opportunities to volunteer your time. Parents recommend evaluating your options rather than signing up for the first one. Think about how you like to spend your time: Do you want to be in the classroom? Work with the teacher? Do you want to be on a committee, or lead the committee? Talk to other parents and figure out the best way to help out. And remember, the amount of time you volunteer isn't a reflection of how much you love your kid.

Get ready to learn new things about your own kid.

Many parents report transformational growth in their children during kindergarten. After spending 5+ years with this little person, you may know them better than you know yourself. That starts to change in kindergarten. Feedback from teachers may sound like they're talking about a stranger. "He is the first to start cleaning up? Really?" Get ready to learn new things about your kid as he starts to figure out who he wants to be.

Get ready for life to hit fast-forward.

We've all heard it before: "the days are long, but the years are short." Parents tell us life goes into hyperdrive once children start kindergarten. One moment it's the first day of school, the next it's winter break, the next they are driving a car. Be sure to remember to hit pause and allow yourself to experience and remember the first year of school.

And finally, just when you thought you couldn't love your kid any more, you realize you actually can.

A mom shared this sweet story: On the last day of preschool, a few weeks before the first day of kindergarten, her daughter gave her one of those arms around the neck/legs around the waist hugs. The kind where even if you don't hold on, the kid still doesn't fall off your body. She eventually let go, jumped onto the ground, and asked, "Did you know I was going to land on my feet?" And the mom did. In more ways than one.
http://www.marybockert.com/wp-content/uploads/2016/07/mbtransparent-300x138.png
0
0
Mary Bockert
http://www.marybockert.com/wp-content/uploads/2016/07/mbtransparent-300x138.png
Mary Bockert
2017-07-28 01:07:39
2017-07-28 01:07:39
Preparing You...or Your Child for School ;)