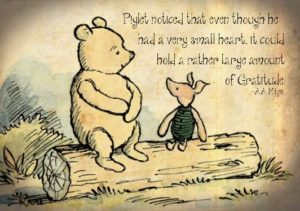 I was stricken with sadness yesterday when I heard the news that a friend of mine had a son who passed away. It completely caught me off guard and left me at a loss for any type of comforting word or gesture. I followed this friend on Facebook and was utterly impressed and overwhelmed at her thankfulness for the community she had surrounding her. Her faith is strong and her friends are making sure she is being cared for.
My older sister underwent a double mastectomy yesterday to get rid of the cancer she has lurking in her left breast. When I asked her how she was doing prior to the surgery and post-op, she was extremely grateful for the surgeons who can help her heal and guide her on the road to success. She leaned HEAVILY on her faith, friends and family to get her through the tough times.
Tomorrow I get induced and will be delivering our 3rd baby girl into the world. I am extremely grateful for growing a healthy baby, the friends who have stepped up to help and encourage me along the way with meal trains and last minute errands, and family who have pulled together to take care of our other two daughters while we welcome the newest addition to our new family of 5! I am extremely grateful for the love and support I continue to receive.
In each of these scenarios/situations, we have a choice. We can allow our environment and the circumstances around us to dictate our feelings or we can make the choice to be grateful and see the good in every situation. Each situation above is difficult in its own way…but the choices we make are all similar. Losing a child is something unimaginable. I am not saying that we should "move on" and get over our feelings. I am saying that with each scenario that happens in our life, we have the choice to go down the dark black hole of sorrow or we can choose to help ourselves get through it with the help of professional help, friends and family.
Find gratitude and you find true freedom.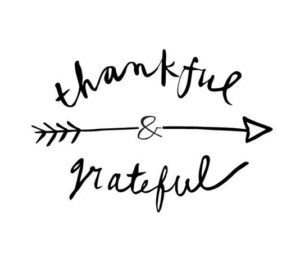 http://www.marybockert.com/wp-content/uploads/2016/07/mbtransparent-300x138.png
0
0
Mary Bockert
http://www.marybockert.com/wp-content/uploads/2016/07/mbtransparent-300x138.png
Mary Bockert
2017-11-14 03:46:43
2017-11-14 03:46:43
Choose Thankfulness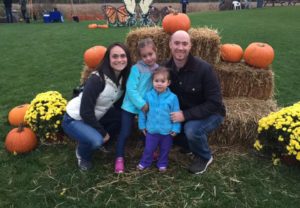 Stuck, Trapped, Inevitable, Worrisome, Excited, Nervous…
It seems that the days before giving birth to a new little addition to the family can cause some pretty intense feelings…and as you can see from my personal list, the feelings aren't always positive. In fact, I feel like this subject isn't talked about as much as it should be. I know when I was feeling this way with my first born before giving birth, I felt guilty admitting I felt this way.
What would others think of me?
Does this mean I am not excited to have a family?
Am I alone with these thoughts?
As a first time momma, I wish the "seasoned" mother would have given me the advice I needed…such as:
These feelings are "normal," Others have felt the same thing, the feelings shall pass and if they don't, then you can worry…
Having a baby, raging hormones, and the inevitable change to life as you have always known it can be a bit overwhelming. Knowing that there are support systems out there, other mommas ready to help, and just an overall feeling that your thoughts are "normal" can truly make it a much easier, healthier transition to motherhood. I have attached some websites that I feel are beneficial to coping mechanisms when struggling with a bit of "depression." These are sites that I have sought out, taken advice from and feel confident you too can utilize them for your own benefit.
http://www.ppdil.org/2015/04/postpartum-anxiety-or-normal-new-mom-fears/?gclid=Cj0KCQiA_5_QBRC9ARIsADVww17iq4Q2C-_uYQ4_-LQHgElI37o0D5-lg_-9oysQzaUR2RoEluw9pE8aAgvTEALw_wcB
http://www.marieclaire.com/health-fitness/a4591/pregnant-depressed/
http://www.postpartum.net/learn-more/anxiety-during-pregnancy-postpartum/
http://www.marybockert.com/wp-content/uploads/2016/07/mbtransparent-300x138.png
0
0
Mary Bockert
http://www.marybockert.com/wp-content/uploads/2016/07/mbtransparent-300x138.png
Mary Bockert
2017-11-12 19:44:03
2017-11-12 19:44:03
The Days Before Delivering Your Little One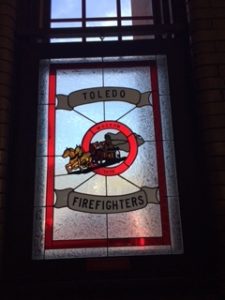 Have you ever heard of "Safety City?" It is a week long summer camp many cities offer to teach kids road safety and fire safety. The program is detailed, aggressive with content and effective. My 5 year old daughter attended this past summer (it is a program for children entering kindergarten) and to this day still sings the songs and jingles they taught the kids.
Fire safety is one of those topics I can be pretty strict about. Checking your fire alarms consistently, practicing what to do in case of a fire in the house or if you yourself get caught on fire, and staying safe are all MUST conversations when having children in the household. Talking frequently about what to do in emergency situations only helps the child if something like that were ever to occur.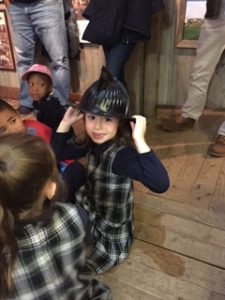 I have attached some pertinent information along with some tips and "talking points" with kids around fire safety. I would love to hear your feedback on the list and what you would add to it. Also check out the following site for additional resources. http://www.firefacts.org/
Fire Prevention
Of course, the best way to practice fire safety is to make sure a fire doesn't break out in the first place. That means you should always be aware of potential hazards in your home.
Start by keeping these tips in mind:
Electrical Appliances, Cords, and Outlets
Are your electrical appliances in good condition, without loose or frayed cords or plugs?
Are your outlets overloaded with plugs from the TV, computer, printer, video game system, and stereo?
Are you overusing an extension cord?
Do the light fixtures in your home use bulbs that are the correct wattage?
Does your home contain GFCIs (ground fault circuit interrupters) and/or AFCIs (arc fault circuit interrupters), which prevent electrical shock and fire by shutting off faulty circuits?
Look around your house for potential problems. And unless you're a trained electrician, be careful about do-it-yourself electrical projects. Studies have shown that many home fires are caused by improper installation of electrical devices.
Other tips:
Replace or professionally repair any appliances that spark, smell unusual, or overheat.
Don't run electrical wires under rugs.
Make sure lamps and night-lights are not touching bedspreads, drapes, or other fabrics.
Use caution when using electric blankets.
Don't let kids use kitchen appliances by themselves and supervise any art or science projects that involve electrical devices.
Cover any outlets that are not in use with plastic safety covers if you have toddlers or young children in your home.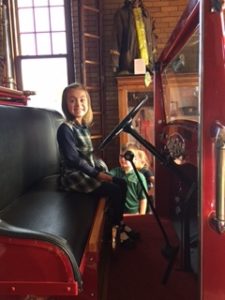 http://www.marybockert.com/wp-content/uploads/2016/07/mbtransparent-300x138.png
0
0
Mary Bockert
http://www.marybockert.com/wp-content/uploads/2016/07/mbtransparent-300x138.png
Mary Bockert
2017-11-09 02:16:35
2017-11-09 02:16:35
Fire Safety...It's a Must!